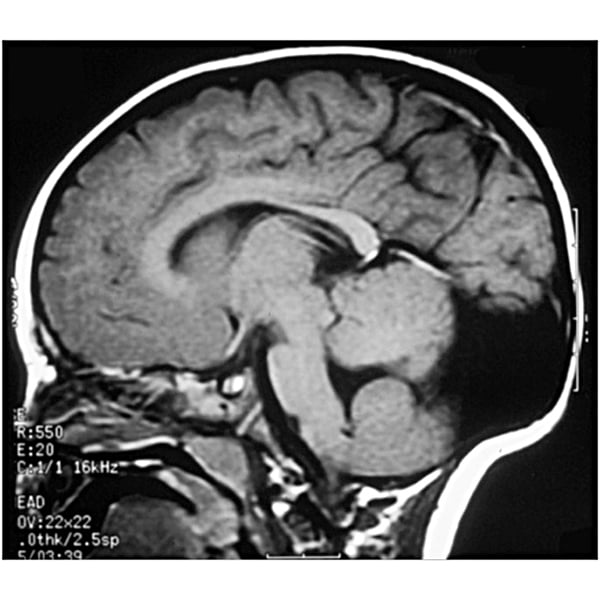 Authors
Ira Bowen, B.A.
Caleb Standafer, B.S.
Mark D. Krieger, M.D.
Section Editor
Shlomi Constantini, M.D.
Editor in Chief
Rick Abbott, M.D.
Introduction
Dandy-Walker syndrome is a congenital brain malformation involving the cerebellum and the surrounding spaces. The term Dandy-Walker represents several abnormalities of brain development, which are classified as malformation, mega cistern magna, and variant. Dandy-Walker malformation involves a partial or complete agenesis of the cerebellar vermis. The variant type is less severe and involves an underdeveloped cerebellar vermis and a cyst space. Dandy-Walker cysts are enlarged fourth ventricles that result from a malformation of the cerebellar vermis and atresia of the foramina of Luschka and Magendie.
Key Points
Enlarged fourth ventricle consistent finding: This congenital malformation results in an enlarged fourth ventricle. There is often associated hydrocephalus.
Treatment option of shunting or fenestration: Shunting and/or fenestration represent treatment options.
Patients followed for hydrocephalus: Treatment is low-risk, but prolonged follow-up is necessary.
Please create a free account or log in to read 'Dandy-Walker Syndrome in Children Homepage'
Registration is free, quick and easy. Register and complete your profile and get access to the following:
Full unrestricted access to The ISPN Guide
Download pages as PDFs for offline viewing
Create and manage page bookmarks
Access to new and improved on-page references