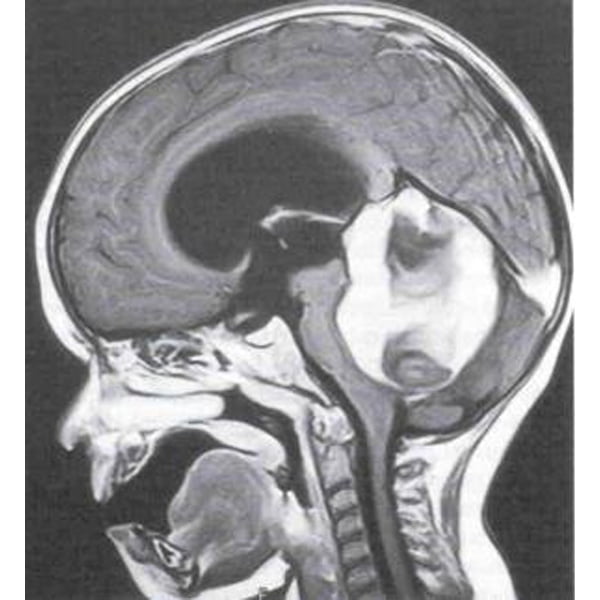 Author
Section Editor
Editor in Chief
Introduction
Astrocytomas of the cerebellum are benign tumors that often can be cured with surgical resection.  Like other infratentorial tumors in children, cerebellar astrocytomas most commonly present with signs and symptoms of hydrocephalus.  The classical finding of a large cyst with an enhancing mural nodule is not present in all patients, as these tumors can be almost entirely cystic, cystic and solid, or predominantly solid.  Pathologically, pilocytic astrocytomas are most common, fibrillary astrocytomas are less common, and malignant astrocytomas are extremely rare.  After initial surgical resection, adjuvant therapy is not indicated.
Key Points
Management of associated hydrocephalus: Timely surgical resection alone usually obviates the need for CSF diversion.  Preoperative ETV is an option but is a point of current controversy.  Preoperative shunt placement should be avoided.
Overall management: Cerebellar astrocytoma is a surgical disease, and no adjuvant therapy is offered even if there is a small amount of residual tumor.  Gross total surgical resection is attempted unless tumor is adherent to the brainstem.  Radiation therapy and/or chemotherapy are reserved for recurrent disease.
Please create a free account or log in to read 'Cerebellar Astrocytomas in Children Homepage'
Registration is free, quick and easy. Register and complete your profile and get access to the following:
Full unrestricted access to The ISPN Guide
Download pages as PDFs for offline viewing
Create and manage page bookmarks
Access to new and improved on-page references