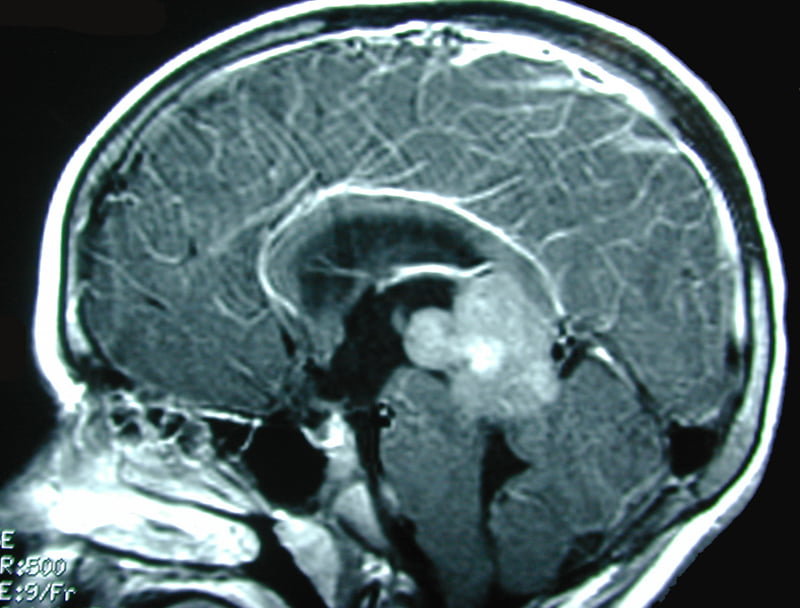 Authors
Amanda Muhs Saratsis, M.D.
Tadanori Tomita, M.D.
Section Editor
Editor in Chief
Introduction
The pineal gland is a neuroendocrine organ located in the posterior aspect of the third ventricle in close proximity to a variety of important neurovascular structures.  The gland is composed of pineocytes, a specialized population of neuronal cells, and supporting glial cells.  As a result of this varied histology and dense regional anatomy, tumors of the pineal region are heterogeneous in nature with variable natural history and treatment paradigms, dependent on the cell of origin.
Key Points
Pineal gland cells give rise to a variety of tumors:

The variety of tumors arising in the pineal region reflects the complex histology and dense anatomy of the area.

Variation in biology with tumor type:

The natural history, treatment, and prognosis of pineal region tumors depend on tumor type.

Improved management with improved tools:

Advances in neuroimaging, immunohistochemical techniques, and tumor marker testing have improved diagnosis and management of pineal region tumors. The refinement of surgical approaches to the pineal region, coupled with the availability of the surgical microscope and neuroendoscopy, has made resection of pineal region tumors a viable treatment modality.

Adjuvant therapies important:

Chemotherapy and radiation therapy remain important tools in the management of pineal region tumors.
Please create a free account or log in to read 'Pineal Region Tumors in Children Homepage'
Registration is free, quick and easy. Register and complete your profile and get access to the following:
Full unrestricted access to The ISPN Guide
Download pages as PDFs for offline viewing
Create and manage page bookmarks
Access to new and improved on-page references